I like gadgets – devices to perform a specific function/purpose, to make my life easier, more enjoyable, or just different.
I'm not alone in this – which is why every high-street has a gadget-shop of some kind.
Sadly the human brain is wired so you can only think one of:
"bling" is fashionable
technology is clever
voting Liberal Democrat is a good idea
Sadly, those always on the lookout for stupid people to buy utter crap for lots of money (aka snake-oil peddlers or marketers), have decided to once again combine tasteless "bling-bling" and hi-tech wizardry into the absolutely F-ing stupid concept that is …
The Google Vanity Ring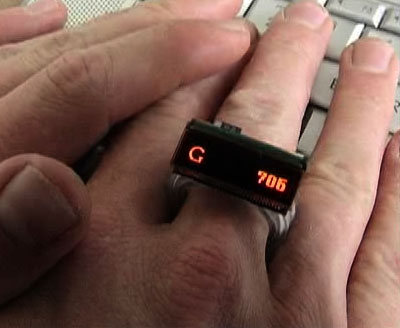 Yes, now you can look an utter prat and billy-no-mates at exactly the same time, simply by
displaying a counter of how many times your name has been "googled" on your finger.
Updated nightly by docking station, or probably sync'd real-time via a premium rate SMS message for the seriously desperate
Watch the THRILLING
Promo Video clip of Google Ring and decide for yourself.
Expect to see one on the hand of the kind of bozo who actually buys their Alexa Ranking on a t-shirt shortly …or more likely given away free with some sort of nerdy tech-mag (where
free
translates into "nothing for the item, but 84 times the actual postage and packing real cost, so we still make a profit") send-away coupon redemption offer thingy.
the designer is looking for investment …
– If he's prepared to embed a gps system into each one, so we can track the wearers on google-maps I'll invest … even better if there was some sort of real-time method to herd the wearers off a cliff lemming style …
Tags: gadgets, The Google Vanity Ring, Markus Kison, Designer e-Jewellery
Tags: Gadgets